Decentralized platforms, digital fashion – more pixels than polyester, blockchain business & future of payments are the major trends to dominate 2023.


Collect 'METAVERSE READY' ツ articles on the ETH blockchain #truedigitalownership


DECENTRALIZED WALLET IS THE NEW BLACK IN COMING YEARS.

Ethereum is the top blockchain platform. The first that introduced smart contracts to the world. Smart contract support users/both parties stay anonymous & transact anything under certain conditions. The contract is visible in the public ledger.


What are the major benefits of using the Ethereum platform:


· EVM (Ethereum Virtual Machine) is perfect for developers and storing objects that no one can modify

· DApps, most (decentralized finance) applications are based on the Ethereum blockchain platform

· Data integrity & transparency

· High-security protocolsy

· NFTs, opportunity to sell, own & trade innovative creations

· True financial (company's) well-being.


A decentralized wallet offers users greater privacy control over their data & profiles.



DIGITAL FASHION – MORE PIXELS THAN POLYESTER.

Digital fashion & luxury brands expand to grow & could reach $50 billion by 2030. Therefore, these are mighty opportunities for all who understand the benefits of blockchain technology. Now you can create, collect & own digital assets & NFTs.

By learning new incredible solutions in Web3 space you can help to dream a new reality based on decentralized finances and values like the creator's economy & freedom.


YOU ARE NO MORE A CONSUMER TARGETED BY ADVERTISING. YOU ARE A CO-CREATOR OF THE BRAND AND AN ACTIVE COMMUNITY MEMBER THAT SHAPES THE FUTURE.

This is a new paradigm shift from a consumer mentality to a creator's economy. @NIKE understands this game-changing perspective and redefines what it means to own a piece of the Web3 world by launching .SWOOSH.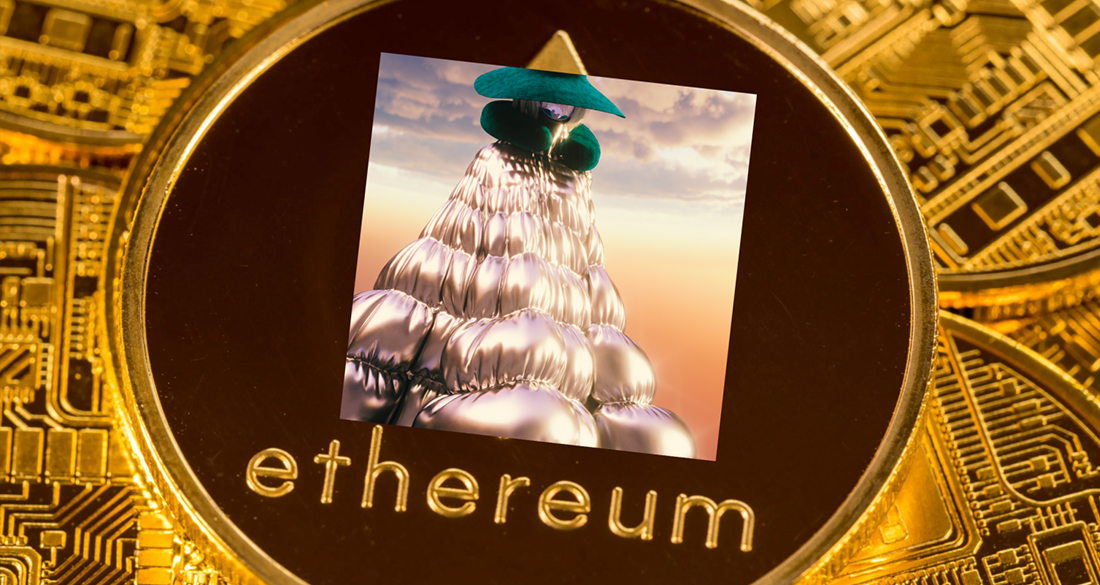 3D ARTIST / IG: @AntoniTudisco I ETH mood: A.J.
BLOCKCHAIN CHANGED HOW WE DO BUSINESS.

According to Mastercard $228 billion is the projected market size of blockchain-based businesses and tech in 2028, from nearly $5 billion in 2021.

The applications of blockchain transform different business sectors. Many big players join digital transformation and create digital assets & new financial well-being.

A clear understanding of blockchain technology guides true leaders to adapt effectively to changes and will dominate in the coming years.

NIKE TRANSACTIONS WORTH ALMOST $1,3 BILLION ON SECONDARY VOLUME.

TOP RANK OF TRANSACTIONS IN WEB3 SPACE:

Nike / RTFKT, DOLCE&GABBANA, Tiffany & Co., Gucci, adidas, Budweiser Brewing Company APAC, TIME, Bud Light, AO, Lacoste, NICKOLODEON, Maclaren, PepsiCo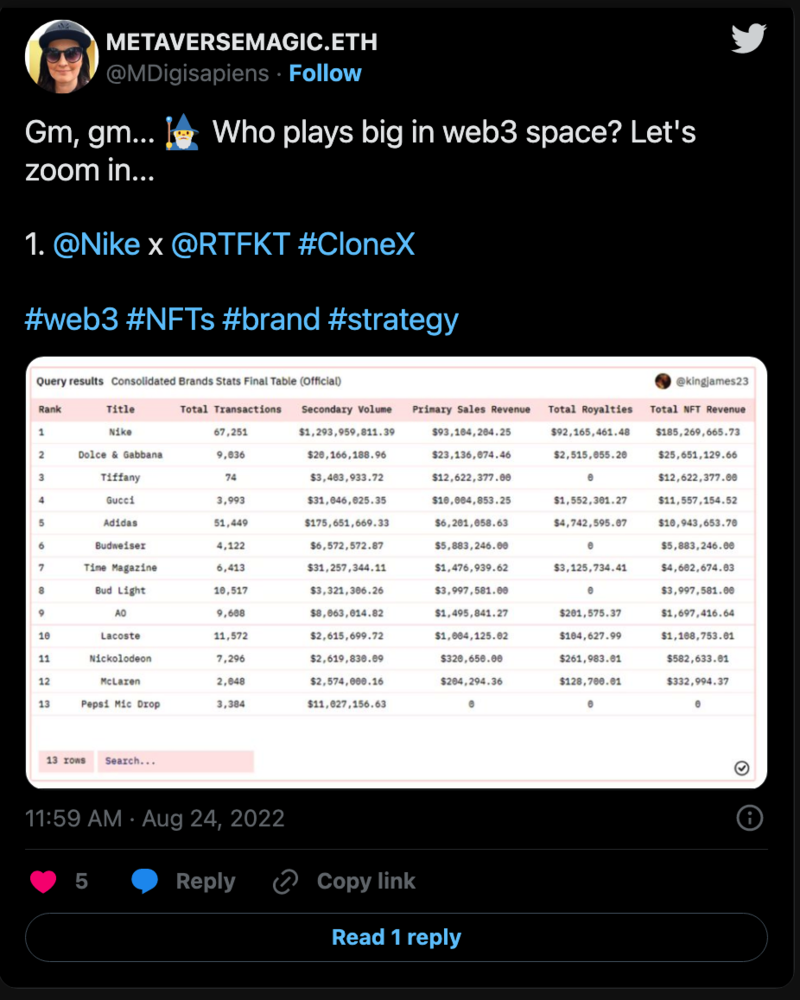 https://twitter.com/MDigisapiens/status/1562378934557282305/photo/1
According to a market research study published by Custom Market Insights, the demand analysis of the Global Blockchain Technology Market size & share revenue was valued at approximately USD 4.8 Billion in 2021 and is expected to reach around USD 69 Billion by 2030, at a CAGR of 68% between 2022 and 2030.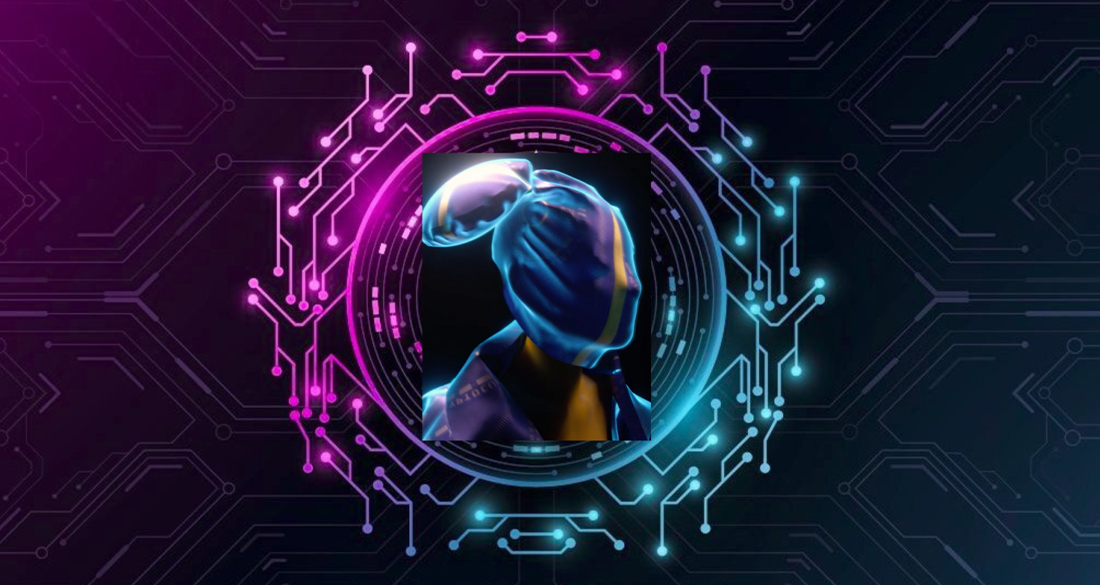 3D ARTIST / IG: @AntoniTudisco I ETH mood: A.J.

MONEY IN THE METAVERSE.

A new @DELOITTE rapport predicts that the Metaverse could pump between $800 billion and $1.4 trillion a year only into Asia's GDP.

More than 90% of business leaders expect the Metaverse to highly impact the industry by 2030.


THE METAVERSE IS NOT FAKE NEWS BUT SUSTAINED TECHNOLOGY ALREADY USED BY MILLIONS OF THE WORLD'S YOUTH. THEREFORE, THE INFLUENCE OF THE METAVERSE ON GLOBAL ECONOMIES IS MIGHTY.

Asia has the largest number of gamers in the world and the Metaverse is powered by them. With blockchain & cryptocurrency, users can not only play & socialize but also shop, collect, develop, invest & trade digital items e.g. virtual lands, PFPs, dress avatars, and more.


HOW WE WILL PAY IN THE METAVERSE IN THE COMING YEARS?

CeFi & DeFi is revolutionizing the financial world, bringing the physical, digital and phygital together. It soon became an essential element of modern life in the real world, REALITY+.


INVISIBLE FUTURE OF PAYMENTS.

Meta Pay launches the Digital Wallet for its version of the Metaverse.
MetaMask, The World's leading Web3 Wallet support buying crypto on iOS with Apple Pay.
Mastercard, a leading (Web2) financial brand is moving into the Metaverse (Web3).
PayPal plans exchanging, trading, and processing transfers of blockchain.


WHAT BRANDS CAN DO TO BE READY FOR THE FUTURE OF DECENTRALIZED ASSETS?

For breakout success, they can launch a Web3 community powered by the blockchain and bring more integrity, transparency standards, and liquidity to the Web3 market by making business in a new, inclusive way.

Brands can also collaborate & support creators, their presence, and growth by shifting from traditional social platforms which are challenged by low-reward compensation models into the Web3 ecosystem with royalty fees.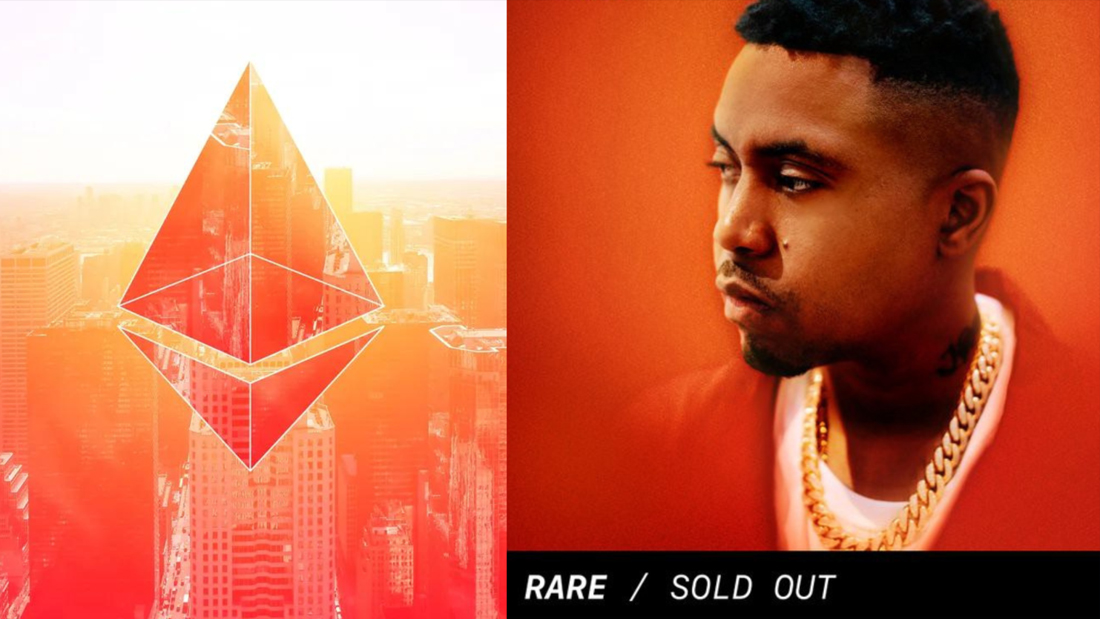 ARTIST: Image by Royal via @join_royal Jan 20, 2022 ETH mood: A.J.

Out Now ツ 'Metaverse Ready' Free Education. Calling all cutting-edge creators #GMGM